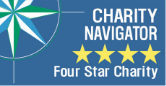 Commitment to Transparency
ELPC consistently earns Charity Navigator's 'exceptional' rating — 4 out of a possible 4 stars — which means we "exceed industry standards and outperform most charities in our cause." ELPC also earns the GuideStar Platinum participation level.
These ratings demonstrate how efficiently ELPC uses donations, how well we sustain our programs and services over time, and our level of commitment to being accountable. They are also a testament to our organization's commitment to data transparency.