February 05, 2021
Modernized Interconnection Supports Cost-Effective Transition to Renewables
Midwestern states' interconnection processes must be fully modernized to take advantage of advanced technologies and support a cost-effective transition to a renewable future.
Distributed energy and grid technologies have evolved rapidly in recent years. Costs for solar panels and energy storage continue to drop, facilitating deployment. At the same time, smart inverters and related technologies open the door to new grid-supportive functionality for distributed energy resources (DERs). Interconnection processes that facilitate the use of these advancements hasten the transition to cleaner, cheaper renewable energy.
The Environmental Law & Policy Center (ELPC) was involved in the establishment of many of the first interconnection rules across the Midwest and is now working to update these processes so states across the region can realize the full potential of technology advancements.
Enabling Storage-Connected Solar – Export Controls
As battery costs decline, interconnecting storage-coupled solar based on the operating characteristics of the project as a whole, not the solar by itself, is critical. Combining storage with solar allows solar to charge batteries in addition to exporting to the grid. Storage can therefore dramatically lower the need for interconnection upgrades, which are often scaled to project export levels. But that can only happen with clear guidelines in interconnection rules about the technology and system configuration projects may use to control export.
Facilitating Grid Supportive Functionality – Interoperability
Smart inverters and related technology can modulate DER impacts and services, facilitating higher penetration and allowing DERs to provide new benefits to the grid. In 2018, the Institute of Electrical and Electronics Engineers (IEEE) published a major revision to its standard for DER interconnection to facilitate inoperability. Unlike previous versions of this standard, IEEE 1547-2018 does not offer a one-size-fits-all approach, but rather presents a roadmap of decisions state Commissions must make to adopt the standard. In particular, decisions are needed around whether to implement inverter settings that result in power curtailment and how to compensate DERs for the grid services they provide. Furthermore, including a wide range of stakeholders, including utilities, industry, and advocates, in the adoption process will be critical to success.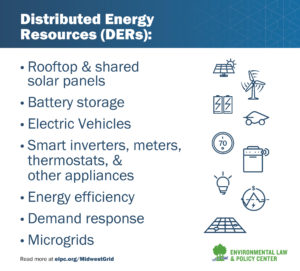 While the adoption of IEEE 1547 and the inclusion of export controls in rules are the two updates needed to integrate new technology, updates that create the grid transparency needed to interconnect high volumes of DERs are also important. Measures that would increase transparency include the addition of pre-application reports in states without them and the development of hosting capacity analyses and public interconnection queues.
Across the Midwest, Commissions have already begun this work. Minnesota recently completed an update to interconnection rules, the adoption of the IEEE 1547, and the development of a hosting capacity analysis. Both Illinois and Michigan are working to update their interconnection rules and the Michigan commissions recently ordered its two major utilities to carry out a hosting capacity analysis – ELPC is playing an active role in both of these processes. And Wisconsin will begin an update to its interconnection rules soon. These and other Midwestern states' interconnection processes must be fully modernized to take advantage of advanced technologies and support our transition to a cost-effective renewable future.
*This article was written for Rise Up Midwest, a coalition of organizations across the Midwest committed to advancing clean energy.