March 03, 2021
Memo from the Midwest: What the Biden administration should prioritize for a robust transition to electric vehicles
ELPC looks forward to working with federal partners to reduce carbon pollution by revving up clean electric vehicle efforts.
By Susan Mudd, Senior Policy Advocate & Rob Kelter, Senior Attorney
President Biden has already announced with much fanfare that electric vehicles and a nationwide EV charging network are of paramount importance to addressing the climate change crisis. More than one executive order signed during his first week in office included specifics about EVs, including creating jobs to build EVs domestically, electrifying federal fleets, and establishing a network of 500,000 charging stations across the country so EV drivers can reliably reach their destinations. Transportation Secretary Pete Buttigieg has echoed the president's commitment to make vehicle electrification a key component to reducing greenhouse gas emissions in the transportation sector.
The Environmental Law & Policy Center has been working to advance transportation electrification at the municipal, state, and regional levels in the Midwest and we welcome President Biden's commitments and the "whole of government" approach to tackling the climate crisis. Now we look forward to revving up those efforts with federal partners that refreshingly share ELPC's goal of reducing carbon emissions from the transportation sector, which is now the leading source of U.S. climate pollution. The U.S. can slash emissions by accelerating steps to get more pollution-free vehicles on the roads, and strengthening and expanding the public transit and high-speed rail infrastructure and investing in safe walking and biking so there are more efficient and equitable alternatives to driving. Moreover, electrifying the transportation sector will provide critical reductions in air pollution in the Midwest and across the country.
Here's what the Biden administration can and should do on the EV front:
Support and promote funding for a massive shift to electric school buses
We can get dirty diesel school buses off the roads and eliminate 25 million children's ongoing exposure to those harmful emissions by expanding electric school bus rollout nationwide. A comprehensive climate bill introduced in the U.S. House of Representatives in early March 2021 included a provision led by Rep. Jahana Hayes (D-CT) and Rep. Tony Cardenas (D-CA) authorizing a $25 billion investment to rapidly transition close to half the school bus fleet in the U.S. to clean, electric buses. The bill would target grants to school districts serving communities with unhealthy air pollution and lower-income residents. ELPC is part of the national Electric School Bus Coalition, which supports the bill. President Biden should do all he can to push that legislation over the finish line.
Ensure more Americans can afford EVs
The Biden administration should support efforts to get more people to buy EVs by urging Congress to increase financial incentives to make them more affordable, especially compared to cars with internal combustion engines. Until now, the federal tax credit for EVs has been up to $7,500 and only has applied to the first 200,000 cars per manufacturer. The Biden administration also should support swapping out the tax credit for a cash rebate that's available at point of purchase so consumers realize that benefit immediately. Rebates should be extended to anyone buying a used EV. Additionally, the 200,000 car limit for the tax credit penalizes successful auto manufacturers and hurts sales – that limit should be eliminated if there's a true commitment to shift to EVs.
Act quickly to create a 500,000-plus EV charging network nationwide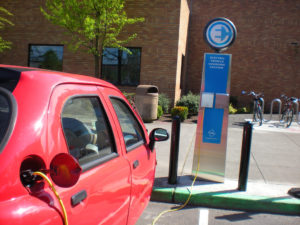 A nationwide charging network is critical for our federal highways to reduce range anxiety for drivers, so they can reliably get from point A to B. While home charging will meet most daily travel needs, we still must build out the charging network on our highways for passenger cars as well as for medium and heavy-duty vehicles. Additionally, all federal buildings with parking should be required to install publicly accessible electric vehicle supply equipment so adding charging stations will be easier.
Transition the federal fleet to EVs, offer subsidies to states, and buy EVs made in the USA
President Biden said he would electrify the federal fleet, which consists of about 650,000 vehicles across all government departments. That would make a sizable dent in reducing emissions, as those vehicles traveled 4.5 billion miles in 2019, according to the General Services Administration. The federal government's hefty purchasing power can foster significant demand for EVs that will create manufacturing jobs and help drive down costs.
The president should act on that initiative quickly and consider offering subsidies to state governments willing to similarly convert state fleets. What's more, federal and state governments should buy EVs made in the USA boosting American auto production and benefiting the domestic workforce and the economy.
President Biden's EV agenda may, in part, be helping to push the auto industry to step up.  In recent weeks car manufacturers have announced plans for significant changes in their automotive production lines. General Motors CEO Mary Barra said the automaker aspires to make only pollution-free vehicles by 2035 and has committed to spend $27 billion on electric and autonomous vehicles through 2025. Ford said it will spend $11 billion introducing a roster of new EVs, including the Mustang Mach-E and an electric version of its uber popular F-150 pickup truck.
The federal government's hefty purchasing power can foster significant demand for EVs that will create manufacturing jobs and help drive down costs.
In addition, there are other opportunities for the administration to accelerate electrification while also improving air quality and protecting public health. ELPC has been engaged in the following areas where we encourage greater participation from the Biden administration:
Reprioritize Diesel Emissions Reduction Act (DERA) funding
Diesel Emissions Reduction Act (DERA) funding for medium and heavy-duty vehicles and equipment can accelerate the retirement of legacy versions and towards replacements with zero-emission models. The current process overwhelmingly funds overhauls of existing diesel trucks and equipment (with better filters, for example) to emit less of the harmful pollutant or buy "cleaner" diesel models. As electric versions of truck and equipment enter the market daily, it's time to help that transition. 
Require clean construction for federally-funded projects
Federally-funded projects using construction equipment should require electric equipment that emit no GHGs, whenever possible. Federal dollars should only go towards projects allocated to Tier 4 diesel equipment that emit less carbon dioxide, nitrous oxide and small particulate matter than standard off-road diesel equipment. Also, to protect worker and community health, the government should impose idling limits on diesel equipment used on those projects.
There's much work to be done, and the Biden administration has loudly stated that its EV policies will help the U.S. reduce climate pollution – and they will also help clean the air we breathe. ELPC looks forward to helping the federal government navigate that greener cleaner road to a net-zero future.