August 23, 2019
It's a sunny day for Illinois: Solar energy across the state
Did you know that Illinois has one of the fastest-growing solar industries in the country? Our state added 1,308 jobs in 2019, up 37% from 2018, and there's more to come!
ELPC is helping pave the way for solar energy, working with community organizations, industry experts, and policy makers to launch Illinois into the green economy. We fought for a modern Renewable Portfolio Standard as part of the Future Energy Jobs Act (FEJA) of 2016, and we didn't stop there. We've continued working with partners to see this legislation roll out effectively. Programs supporting rooftop and community solar development opened doors at the very end of January.  You can now find solar installations planned all over the state, bringing jobs and clean energy to communities from Evanston to Edwardsville, Mattoon to Moline.
Let's check out what this growing industry looks like, and how everyday Illinoisans can get involved.
Where are solar developments happening?
Illinois is a big place, and it's important to make sure that every community has an opportunity to dive into the growing green economy. In the first six months since the rooftop and community solar programs opened, projects in nearly every county of the state have received initial approval. As a result, both rooftop and community solar projects are popping up all over the place, reaching 98 of the state's 102 counties. These projects will employ thousands of Illinoisans in sales, installation, maintenance, and other fields related to solar project development. Check out the accompanying maps to see solar projects planned or already under development in your community.
How much energy are we talking here?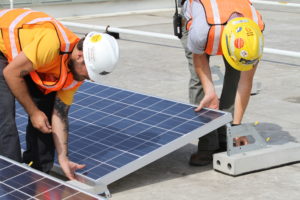 More than 5,000 Illinois solar projects have already been approved in the first six months of the program, most of them small projects on rooftops (or, in some cases, backyards!). Once they are completed, they will add more than 600 MW of solar capacity to Illinois. That's enough to power over a hundred thousand Illinois households! More than 100 of these developments will be community solar projects. They can provide power to multiple customers, including those who live in condos or apartments or otherwise cannot install solar on their own home. Every megawatt of renewable energy means we have to burn less dirty fossil fuels. This results in less pollution and lower carbon emissions, which can hurt public health and damage infrastructure.
What's so great about solar?
Solar photovoltaic panel prices have come down to historic lows, making solar energy an affordable investment in the future. Renewable energy supports local jobs, keeping energy dollars in the Midwest, so Illinoisans aren't paying to ship in fossil fuels from elsewhere. Despite the occasional cloudy day, Illinois is actually a great place for solar energy. We have better solar intensity than both Germany and Japan, two of the world's largest solar markets. Most importantly, solar energy is free of the pollution and carbon emissions produced by burning fossil fuels. The more we shift to clean energy, the more we can help protect public health, save folks money on healthcare bills, and save lives.
What does a solar project look like?
Solar developments come in many shapes and sizes. Maybe you're an individual homeowner who wants to save on bills, or a group of neighbors who want to power an apartment building. Maybe you're a farmer who wants to keep your business competitive by harvesting solar energy alongside crops, or a large utility company who wants predictability for your customers. No matter the scale: solar is the way to go. While there are significant long-term financial benefits to investing in solar, there can be high up-front costs. So the state offers funds to help overcome financial barriers and support this new industry. As the solar industry grows, these funds will diminish over time.
How does the state support solar?
Illinois is on a mission to reach 25% renewable energy by 2025. When the legislature updated the Renewable Portfolio Standard (RPS) as part of the Future Energy Jobs Act (FEJA) in 2016, they ensured long-term reliable funding and policy support for a wide array of new renewable energy development. A small fee from electricity bills goes towards purchasing Renewable Energy Credits (RECs) on behalf of Illinois investor-owned utilities: Ameren, ComEd, and MidAmerican. The funding stream created by REC purchases helps support the development of new renewable energy projects.
FEJA prioritized the development of a diverse Illinois solar market, with many different types of projects. In addition to the rooftop and community solar projects highlighted in these maps, RPS programs and procurements support the development of other projects as well. These include large-scale solar farms, solar developments on brownfields, and solar developments in low-income and environmental justice communities through a program known as the Illinois Solar for All program.
How can people get involved in moving Illinois solar forward?
There is a growing movement towards solar energy across the state of Illinois, as we shift away from the dirty pollution of fossil fuels. For more information on Illinois programs that support rooftop and community solar, check out the Illinois Shines Program. The Illinois Solar For All Program also supports solar development in low-income and environmental justice communities. Even if you can't get solar panels yourself, you can support businesses that use renewable energy or donate to environmental nonprofits like ELPC.
If we want to reach our goal of 25% renewable energy by 2025, we have to get the solar industry growing quickly, and we need support from people like you all across the state. It is essential that we pass further legislation, like the Clean Energy Jobs Act (CEJA), to ensure there are enough funds available to really launch this industry into success, without dropping off too quickly. State legislators need to hear from their constituents to show widespread support for clean energy growth in Illinois. Click here to learn more about the CEJA and support Illinois renewable energy development. Illinois has a bright future, and your support can make a big difference!
Source: Adjustable Block Program data from Illinois Power Agency http://illinoisabp.com/project-information-disclosure-process/