March 15, 2022
Electric Vehicles at the 2022 Chicago Auto Show: The Future is Now
We've reached the tipping point on electric vehicles.
After spending a few hours at the 2022 Chicago Auto Show at McCormick Place last month, the thought I couldn't get out of my head was this: "We've reached the tipping point on electric vehicles." I've worked on EV policy in the Midwest region for the last six years. I've tracked the increase in press coverage of EVs, and watched increase in Super Bowl commercials for electric cars over that time. Despite that growth, I typically left the Chicago Auto Show in years past thinking EVs are still a trend of the future.
Until this year.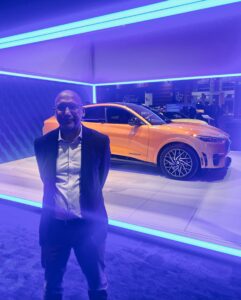 When I left the auto show it hit me that we're finally catching up to that future. It wasn't the fact that more than 20 EV models were on display with crowds jostling to check them out. It was the way the manufacturers featured them, and the pride and enthusiasm of the automakers exhibiting those cars. More than one product manager told me, "EVs are what I'm most excited about this year."
The highlight of the auto show for me was talking to Kia representatives. The South Korean automaker's senior executive at the show was Steve Kosowski, manager of long-range strategy and planning who oversees the North American EV program. He pointed to a beautiful Kia all-electric SUV and boldly told me Kia is investing $25 billion (yes billion) in EV development in the next five years. He added that Kia is planning to soon open its first EV factory in the U.S.
Ford didn't just show off the new E version of the Mustang, called the Mach-E. It had 5 of them lined up in different dazzling colors. The soft-spoken Ford executive in charge of the automaker's E-150 Lightening pickup truck program shifted into a high gear of excitement when asked about consumer demand. At the end of 2021, Ford hit 200,000 reservations and stopped taking deposits. The Lightening truck will debut in showrooms this May with about 150,000 expected to be available this year.
Even Toyota, which bet the store on hydrogen vehicles, has stepped up its EV effort in dramatic fashion, hoping to catch up quickly. Its bZ4X (which stands for who knows what, but sounds very forward looking) SUV is undeniably stunning. Toyota probably figured if it's playing catchup then its first EV better be something special. Those EVs are expected to be ready for sale in the next few months, but the representative I spoke to proudly emphasized that 25% of all Toyota's U.S.  sales in 2021were "electrified" vehicles – either hybrid or plug-in hybrid.
EVs need charging, and no matter how great the EVs perform, widespread EV charging availability is an essential part of the equation.
The increased push by manufacturers comes at the same time President Biden and the U.S. Departments of Transportation and Energy committed a total of $5 billion to the nation's charging station network. There's no question the charging infrastructure is a vital step towards making EVs more convenient to drive and addressing range anxiety for many who travel long distances. EVs need charging, and no matter how great the EVs perform, widespread EV charging availability is an essential part of the equation.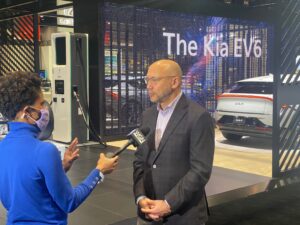 Not only does the Biden administration's actions encourage drivers to shift to EVs, but they also embolden manufacturers to stay the course on their transition to EVs. This transformation is not easy, but it certainly helps when manufacturers and policymakers both take important steps to turn vision into reality.
And none of this is to say we've reached nirvana – EVs are still far from perfect. But we have reached the point where there's sufficient competition between manufacturers to speed up the pace of improvements to battery life, charging range, and other aspects of EV manufacturing and performance. Still, the near future is looking even brighter – a spokesman told me next year's Chicago Auto Show could have as many as 50 EV models on the exhibit floor.