April 01, 2021
Pekin and See: How to Turn a Coal Plant into Electric School Buses
Catching a ride on the magic school bus is now a reality for students in the Pekin and Hollis School Districts as Illinois' first vehicle-to-grid (V2G) electric school buses hit the road last week.
Ok, so the school buses aren't actually magic, but they do provide
a pollution-free, zero-emission ride for kids
healthier, clean air to breathe
energy storage capacity
new revenue source for school districts by reselling unused energy back to the grid
If you ask me, that's pretty magical!
Even more impressive is that these buses were funded with $882,000 in funds from the $8.6 million Edwards power plant settlement. The multi-year effort to shut this coal plant down, which ELPC helped litigate, ensures that the Peoria region gets the cleaner air it deserves. Community groups, such as NAACP Peoria and Central Illinois Healthy Community Alliance, together decided where to reinvest the settlement money to make the greatest impact. Thanks to impassioned presentations from local Hollis and Pekin students, the community saw the value of investing in electric school buses and a clean ride for kids.
Why Electric School Buses? Dirty Diesel Buses = Sick Kids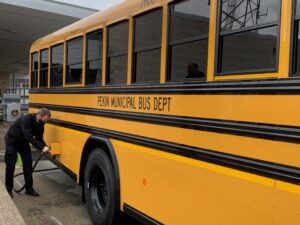 School buses are the largest form of public transportation in our country, transporting more than 25 million kids each day. Five Midwest states alone (Illinois, Indiana, Michigan, Ohio and Minnesota) have 3.96 million children riding on 86,800 school buses. The tailpipe emissions from your average diesel-powered school bus contain about 40 different pollutants. A child sitting in the back of a school bus with windows closed is exposed to 4x more diesel pollution than a child riding in a car in front of the same bus.
Electric school buses would not only benefit the children who ride them, but would reduce pollution across the entire community. School districts with low-income children whose health is at greatest risk would benefit the most.
ELPC has played a pivotal role in advocating for electric school buses across the Midwest since the Volkswagen diesel emissions scandal of 2016. Along with partner organizations, we succeeded in persuading Midwest states to allocate close to $20 million in carve-outs for electric school buses from their portions of the $2.7 billion Volkswagen Environmental Mitigation Trust Fund.
Yellow School Buses = Green Energy Asset

Thanks to bidirectional V2G charging stations and improved software, these electric school buses not only provide a clean ride for kids, but also act as a distributed energy resource. Electric school buses offer a unique benefit when it comes to grid reliability because they run on a consistent schedule and are idle about 75% of the year.
Electric school buses contribute to a more resilient energy grid by storing energy during low-usage times. That energy can then be sold and pushed onto the grid at peak times when the sun's not shining or the wind's not blowing, providing a new revenue source for school districts.
The Pekin and Hollis Consolidated School Districts' two new V2G electric school buses show what is possible when utility companies, bus manufacturers, tech entrepreneurs, public schools, environmental advocates and community members come together for a common goal.
With President Biden's call for electrification of 20% of our nation's school bus fleet in his American Jobs Program and other pending federal legislation, these "magic" V2G electric school buses will be coming soon to a community near you!