September 19, 2023
Stronger Soot Standards would Protect more Chicagoans
Air quality monitoring data highlights communities that are overlooked by current PM2.5 standards, ELPC calls on EPA to improve air protections.
ELPC joined the public health community in calling on EPA to create stronger standards for particulate matter (PM) air pollution. EPA noted in announcing its review that "fine particles, sometimes called soot, can penetrate deep into the lungs and can result in serious health effects that include asthma attacks, heart attacks and premature death – disproportionately affecting vulnerable populations including children, older adults, those with heart or lung conditions, as well as communities of color and low-income communities throughout the United States."
Fine particles, sometimes called soot, can penetrate deep into the lungs and can result in serious health effects
Soot pollution is a critical issue in Chicago and other Midwest Great Lakes communities. We are at the crossroads of most US truck and rail routes and host to multiple intermodal facilities, where freight is transferred between diesel trains and diesel trucks. Many of our neighborhoods have also been bisected by the interstate system and as we've learned from public health studies, living near a major roadway constantly exposes one to air pollution, including small particulates. Too many unhealthy areas are overlooked by current standards, so ELPC conducted an analysis of air quality monitoring data in Chicago to show what stronger protections might look like. Here are some highlights from our testimony to EPA.
To support our call for stronger standards, we analyzed two Chicago data sets: 1) handheld mobile monitors that ELPC volunteers used to measure short-term PM2.5 exposure in Chicago from 2017-2023, while walking or biking around town and 2) stationary sensors operated by Microsoft Research in partnership with ELPC and other organizations on 100+ bus stops from July 2021-April 2023.
Stationary data supports stronger standards
Starting with the stationary data set, we analyzed the data from Microsoft Research stations, calculated the daily and annual median readings, and mapped the places that exceeded various thresholds.
In 2022, three stations on the South Side exceeded the current daily threshold of 35ug/m3 for weeks in September and October. Concentrations ranged from 68.9 to 226.4ug/m3, with an average of 175.75ug/m3, which is extremely high and quite concerning (see left map below). When we reexamined the data using a threshold of 25ug/m3, as EPA has been advised to change the standard to by scientists, public health experts, and environmentalists, we found six stations on the city's South and West sides exceeded this level from March to December 2022 (see right map below). That's twice as many locations that could be receiving federal protections!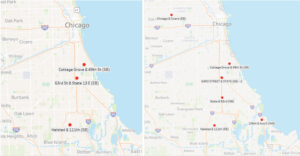 Daily Median Hotspots – Left map shows three stations exceeded the current EPA daily standard, 35 ug/m3. Right map shows six stations exceeded the recommended standard, 25ug/m3.
People facing poverty often have fewer options to reduce exposure and less access to the healthcare needed to heal from the effects of air pollution. In some of the census tracts around these locations, up to 43% of the residents live below the federal poverty level, exacerbating the impacts of the air pollution they experience.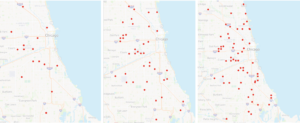 Annual Median Hotspots – No stations exceed the current annual standard, 12 ug/m3. These three maps show increasingly more stations in the dangerous category, if the threshold is tightened to 10, 9, or 8 ug/m3, respectively.
For our annual analysis, we found no stations exceeded the current threshold of 12ug/m3, but if EPA lowered the threshold then the maps start to look very different. 16 stations had annual PM2.5 levels exceeding 10ug/m3. In the census tracts around these stations there are 76,100 residents, with 19% of people living below the poverty level. If the threshold were 9ug/m3, 41 stations exceeded the limit, reaching census tracts with 156,580 residents and a 20% average poverty rate. At 8ug/m3, 66 of the 67 stations exceeded the threshold, including census tracts where as many as 68% of residents are living on less than the poverty level.
Altogether, the 66 stations that exceed 8ug/m3 touch census tracts housing over a quarter million people with an average of 19% living below the poverty line. In other words, particulate matter probably affects a huge swath of the city at 8ug/m3, the level that scientists advise for federal standards. Stronger standards would help show how pervasive this problem is and resulting changes would bring cleaner air to everyone and would have the biggest impact on those who are most burdened.
Mobile data supports stronger standards
To show it another way, we analyzed the mobile monitoring data set, ELPC volunteers visited Chicago locations repeatedly to build a strong data set showing air quality in that spot over time. The final interactive map can be accessed here: Interactive map, and below is a screenshot of the map, showing the areas covered during our monitoring program.

Our analysis showed that 19.5% of the area we covered was above 12 micrograms per cubic meter (the current annual standard). However, if the threshold were to be tightened to:
10 - 31% of the covered area would exceed the limit
9 - 41.5% of the covered area would exceed the limit
8 - 48.4% of the covered area would exceed the limit
If we assume that the population is evenly distributed for simplicity by dropping the threshold from 12 to 10 as proposed or lower to 9, and 8, which is what ELPC and the science supports, the covered area and subsequently the exposed population (i.e., those exposed to levels at or above the primary standard) will be 1.6, 2.1, and 2.5 times larger than under the current standard.
In short, a stronger PM standard will impact a greater area and population and help to ultimately drive down soot pollution when standards are translated into implementation.
Conclusion
In short, a stronger PM standard will impact a greater area and population, helping to ultimately drive down soot pollution when standards are translated into implementation.
While we appreciate EPA's step to reconsider the PM standard, EPA missed the mark with this proposal. The agency's latest proposal would revise the annual standard from 12 ug/m3 to within the range of 9-10ug/m3 but retain the daily standard of 35ug/m3. That is not enough, according to the American Lung Association and a coalition of public health leaders, who have said "the proposed levels do not follow the science, do not meet the statutory requirement of the Clean Air Act to protect public health, and do not include an adequate margin of safety to protect vulnerable groups."
ELPC has long-standing concerns about particulate matter (PM) sources and their contribution to respiratory health disparities like the high rates of asthma– especially among Chicago children. In some neighborhoods 1 in 3 kids are affected. This health disparity and environmental justice situation is not unique to Chicago. A recent story covered the health impacts of living near highways and sources of soot pollution in Minnesota.
We urge EPA to finalize stronger standards that will deliver better health outcomes for those living in communities burdened by air pollution, including sensitive individuals like children and the elderly. Specifically, we call on EPA to finalize an annual standard no higher than 8 µg/m3, and a daily standard no higher than 25 µg/m3 as well as stronger secondary standards as supported by the science.