August 24, 2023
ELPC is at the Forefront of Greening the Yellow School Bus
It's a healthier back to school season for many Midwest kids, as new electric school buses hit the road. ELPC's years of environmental advocacy are paying off and providing cleaner transportation.
Since opening our doors in 1993, ELPC has been passionately advocating for clean transportation. That effort has taken on many iterations over the years, including promoting efficient public transportation within cities and boosting passenger rail throughout the Midwest to slash the number of cars on the road and reduce air pollution. In more recent years, ELPC has been working with federal and state legislators and other stakeholders to accelerate the transition to electric vehicles on our roads and highways. We soon discovered that electric school bus technology could be a great way to reduce diesel pollution and improve public health. Adding e-bus advocacy to the mix of our already robust clean transportation program was a no-brainer.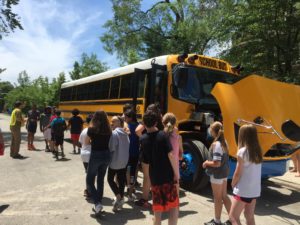 Starting back in 2016, ELPC's policy advocates were among the first ones at the table discussing the merits of transporting children to school with electric-powered buses. Replacing traditional dirty diesel-fueled school buses with new quiet zero-emission school buses is good for kids, good for communities, and good for the environment.
ELPC goes all in
The U.S. school bus fleet is the nation's largest form of public transportation with 2.5x the number of vehicles of all other forms of mass transportation combined. The quick math told us that getting diesel school buses off our nation's roads could go a long way to reducing the impact of climate change and cutting air pollution in our communities.
School buses also serve a particularly important and vulnerable population, transporting 25 million children to and from school every day. Children's lungs are still developing, so they are especially vulnerable to the harmful effects of diesel pollution generated by dirty fossil fuel school buses. Moreover, kids living in environmental justice communities generally experience higher rates of asthma and are therefore disproportionately impacted by diesel school buses they ride and that drive through their neighborhoods.
In six Midwest states alone – Illinois, Indiana, Michigan, Ohio, Iowa, and Minnesota – an estimated 4 million children ride 91,300 school buses. Transitioning to 100% pollution-free, electric school buses is critical for the future of our communities.
Battery electric school buses come with a higher price tag than traditional diesel-powered buses, but over the life of the vehicle an electric bus can cost less than a diesel one. With more widespread adoption of electric school buses, it's anticipated that the sticker price will drop. Until that happens, school districts need funding mechanisms such as grants and other innovative financing sources to help bridge the gap between the cost of a zero-emission electric bus and a less expensive polluting diesel bus. ELPC has been helping schools connect with a variety of funding sources for several years now.
VW settlement funds for electric school buses
After the Volkswagen diesel emissions scandal, states received money from the $2.7 billion legal settlement fund established in 2015 to improve air quality. ELPC analyzed the available uses and found that electric school buses were one of the best uses of those funds that could benefit the most people – and a vulnerable population – so we set out to inform Midwestern communities and legislators. In 2017, ELPC led an electric school bus tour to six communities in Michigan, Ohio, Indiana, and Illinois. We shared our research and amplified voices of local communities, public health experts, education professionals, and utility leaders. At each stop, we held a press conference with an electric bus from Lion Electric to get the word that these buses were beginning to roll off the production line and money was becoming available to help pay for them. We succeeded in getting high profile media coverage in all six cities we visited.
Thanks to our advocacy efforts and those of our environmental and public health coalition partners, Midwest state agencies in Illinois, Michigan, Ohio, and Indiana allocated a combined $20 million in VW funds toward electric school buses. In Michigan, we helped get the ball rolling by working closely with public school transportation officials and state agencies to navigate the process of applying for VW funds. More recently in 2021, Illinois EPA announced it would earmark the remaining $88 million of its VW funds toward pollution-free school and transit buses and electric vehicle charging stations, as ELPC and coalition partners urged. In 2022, the Pritzker administration awarded $4.2 million in grants to provide 17 buses for the Chicagoland and Metro-East regions of the state. And $27 million, the biggest single offering for Illinois school districts, is open for applications until September 5, 2023. More recently, Minnesota and Michigan's state legislatures dedicated significant additional millions for electric school buses in their state budgets.
Forging partnerships between utilities and school districts
When it comes to clean transportation, school districts and utilities need each other, so ELPC has been helping bridge the gaps. Utilities are beginning to craft financing programs or offer grants for schools to better afford these buses; and schools are participating in pilot programs with utilities to test charging infrastructure. Some models will even allow buses to deliver power back to the grid for use in high demand time or emergency situations, which is known as Vehicle-to-Grid technology. ELPC and the World Resources Institute brought an electric school bus to the National Association of Regulatory Utility Commissioners annual conference in 2022 in San Diego and brought commissioners from across the US out on a ride. This hands-on experience illustrated the potential for ramping up clean technology across the country.
Importantly, we are collaborating with Clean Energy Works (CEW) to advocate at the Michigan Public Service Commission for an inclusive utility investment program at Consumers Energy, one of Michigan's largest utilities. It's similar to the first-ever such program at Detroit Edison (DTE) we worked on with CEW, in which the utility makes the upfront payment for the incremental cost of a transit bus battery, (the most expensive part of the electric bus), and the owner pays it off via monthly utility bills. The program is designed in such a way to benefit all ratepayers. DTE may expand that to electric school buses this year.
Advancing federal investments
ELPC is a founding member of the Alliance for Electric School Buses, a national coalition advocating for the rapid expansion of electric school buses in the communities that need them most. Together, we call on Congress and the White House to improve children's health with electric school buses.
Thanks to our collective advocacy, the U.S. EPA launched a groundbreaking Clean School Bus Program in the spring of 2022. Authorized by the Infrastructure Investment and Jobs Act (IIJA), the program will fund $5 billion over the five years to replace dirty old school buses with low- and zero-emissions buses. ELPC policy advocates connected a group of Black superintendents with EPA officials to rectify flaws in the program design that added unnecessary burdens for several low-income school districts. ELPC is working hard to ensure ALL school districts have the opportunity and support to apply for this important program. To date, the first round of EPA awards has been announced, allocating funding for 384 electric school buses and charging infrastructure equipment was allocated to Midwest school districts.
Growing Opportunities
Electric school buses are now hitting the road as ELPC's vision becomes reality. E- buses are even being made right here in the Midwest now. Lion Electric opened a new manufacturing facility near Joliet, Illinois this summer, which is expected to bring in 1,400 new green jobs. ELPC is in it for the long haul and won't stop working on our clean school bus campaign until every child attending public school in the Midwest has the opportunity to get a clean quiet ride to school.