February 01, 2023
Celebrate ELPC's 30th Anniversary!
A look back at three decades of environmental impact. A look ahead at the Midwest's sustainable future.
For thirty years, the Environmental Law & Policy Center has served as the Midwest's leading environmental legal advocacy organization. For our 30th Anniversary, we are looking back at our impact and looking ahead to continuing to shape a strong future. We know that this region is critical for tackling climate change, as the hub of our nation's transportation and energy networks, and we know that environmental progress and economic development can come hand in hand. So, we have fought for the green businesses, EV manufacturing jobs, and the renewable energy industries that are thriving today. Our multi-state staff has a deep understanding of the Midwest's people, politics, pollution, and public interest opportunities. Our roots here have been essential for building coalitions to shut down coal plants, hold polluters accountable, and preserve wild and natural places, from the Great Lakes to the Great Plains.
Throughout 2023, we will be celebrating our work across the region, the wins that have made a big difference, and the ways we continue that fight for the future. Every month will follow a theme, starting with Clean Energy in February and Clean Transportation in March. Join us for this journey through time on our digital platforms, and then join us in person to celebrate at our anniversary gala on June 9th, 2023 at Navy Pier, Chicago.
ELPC is here for the long haul. We dive deep into economic, scientific, and policy analysis, to find solutions that endure. We achieve results with effective and strategic public interest litigation, and we create profound change in everyday lives. Our work protects the water you drink, the air you breathe, and the land we all call home.
But we couldn't do it without you! Thank you for your support over the years and for investing in the Midwest's bright future.
Reflecting on the Past, Looking to the Future
ELPC will be writing a series of blog posts and documenting our work over the years, to illustrate how our effective advocacy of the past continues on into the future. Follow along with us on social media and via email to see the story unfold.
ELPC Turns 30: Energy Programs Look to Local Opportunities
2/20/23 Blog Post by ELPC Energy Lead Brad Klein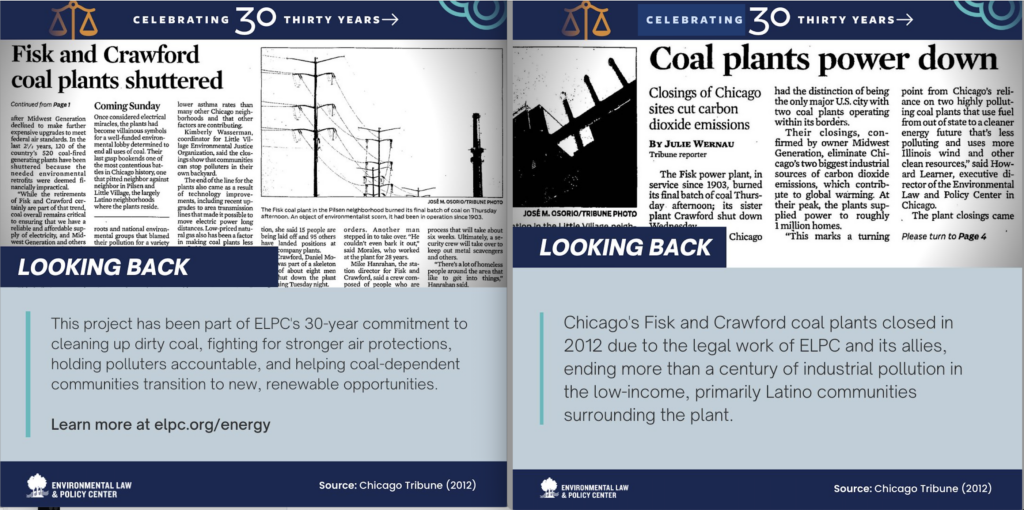 Celebrating 20 Years of Rural Energy for America Program (REAP) Success Stories
2/22/23 Blog Post by ELPC Senior Policy Advocate Andy Olsen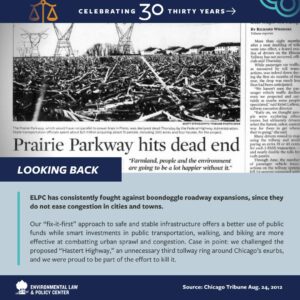 30 Years of Advocating for Fix-It-First Transportation Policy
3/13/23 Blog Post by ELPC Deputy Director Kevin Brubaker
30 Years of Protecting the Great Lakes
4/7/23 ELPC Blog Post
ELPC Honored with 30th Anniversary Proclamations
6/7/23 ELPC Blog Post
ELPC Gala Celebrates 30 Years
6/12/23 Blog Post by ELPC Director Howard Learner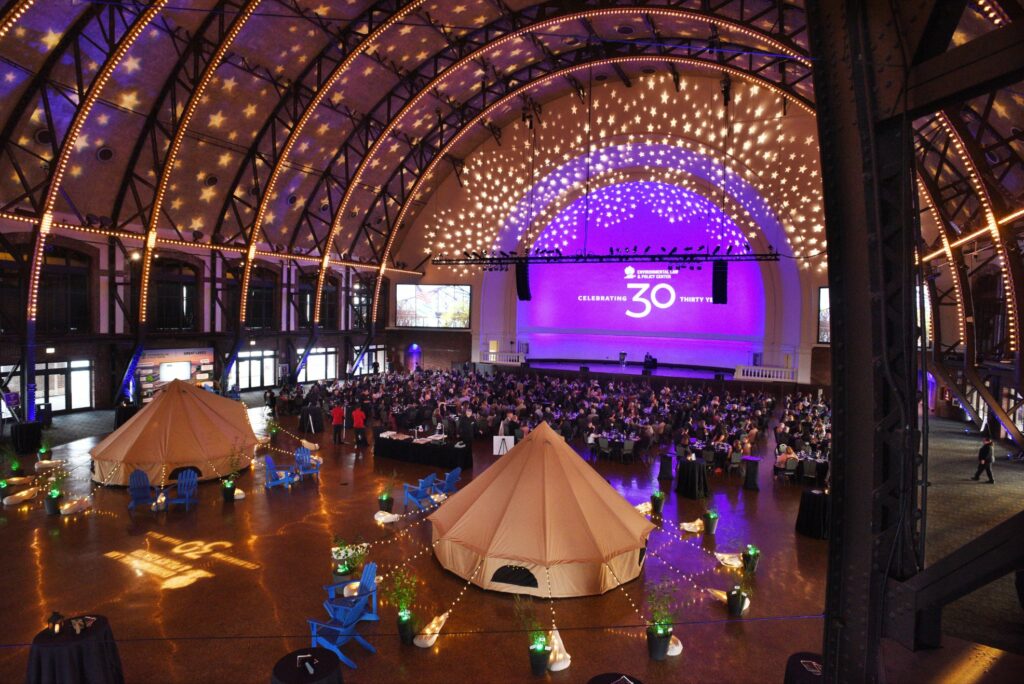 ELPC is at the Forefront of Greening the Yellow School Bus
8/24/23 Blog Post by Senior Policy Advocate Susan Mudd